Fast and it will help if you prepare all ingredients before you even begin heating anything. Also, it doesn't mention the sides, but I served this in a bowl with a bed of white rice, and some asparagus for colour.
And, this recipe has enough salt and pepper, and so no further spicing or flavouring is required after serving.
Oh... and try to find the mixed peppercorn stuff... I used black peppercorn which gave it a bit too much bite.
Ingredients:
Lean Steak
Peanut Oil (3 tblspoon)
Orange Juice (2 tblspoon)
Shallots / chopped (1/2 cup)
Peppercorns / ground w/ mortar (2 tblspoon)
Salt (1/2 tspoon)
Chicken Stock (1 cup)
Butter (1 tblspoon)
Marinade
Soy Sauce (1 tblspoon)
Rice Vinegar (1 tblspoon)
Corn Flour (2 tblspoon)
Sesame Oil (2 tblspoon)
Cooking
1 Cut the beef in to slices that are 2" long and 5mm wide - a good sharp meat knife is really going to help. I try to keep them as sharp as possible (knives) because this will reduce any injury or f-ed up cuts. Cut against the grain of the meat (or against the striations). Put the beef in a bowl with the marinade, mix well, and leave to marinade in the fridge for 20 minutes (or longer). Pop in to the fridge and mix when you feel like it. Additionally, put the bowl on a plate in the fridge. This helps avoid contaminating the fridge with any dripping.
2 Heat a large and deep sided fry pan until it is really hot. Don't go too hot or you will F up the teflon coating. Add the oil, and when it is nearly smoking hot (peanut oil is the oil that gets the hottest before it burns), remove the beef from the marinade and add the beef to the hot pan. Only use non-metal utensils. Cook for 2 min and then remove the meat. Drain meat from oil (important), and remove the remaining oil from the pan. Set meat aside.
3 Re-heat the pan / wok over high heat. Add the orange juice. Keep it from burning by using a wooden spoon to scrap or move it around.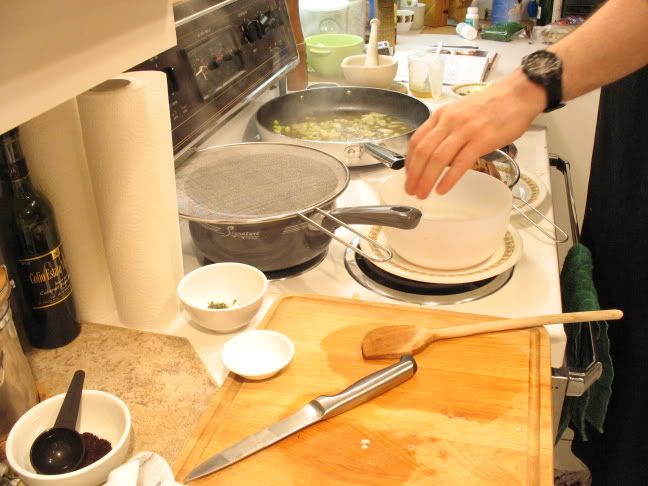 4 Add the shallots, peppercorn, salt and stock, and simmer over heat until the sauce has been reduced by 1/2 or more. Now stir in the butter to the reduced sauce.
5 Return the beef to the wok / pan and stir fry on high for 2 minutes or less.
Serve over rice, and add a side vegetable.
And drink plenty of water - it is good for your skin!